Aoyama Thelma - Zutto. (Much.)

CD




CD + DVD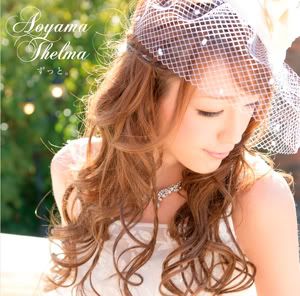 Zutto. (Much.) is Aoyama Thelma's 12th single & it will be released next week on 2nd March .
Aoyama's new song is written specially for her close friend , model Kinoshita Yukina . Zutto. has been described as a tender ballad that expresses a newly-wedded bride's feelings towards her new husband .
The lyrics for Zutto. were rewritten by Aoyama 5 times & she worked on the song for 3 months straight , in order to give Kinoshita the perfect wedding gift .
A small wedding ceremony was held at Tokyo's Disney Resort last year on December 5th for the close friends & relatives of the newlyweds . Zutto. made its unofficial debut & brought tears to the eyes of everyone present .
In addition to appearing in the music video for Zutto. , Kinoshita is also on the single's cover which she is decked out in a beautiful wedding dress .
I think it's really thoughtful & sweet for Aoyama to do something like this for Kinoshita , especially when it's an intangible wedding gift which $ cannot put a price on , let alone for friendship .
Zutto. is Aoyama's 1st wedding inspired single & it's not as heavily wedding influenced as much as I was hoping for but still , considering the story/meaning behind Zutto. , the song speaks for itself .
I'm not sure if Zutto. can be a future wedding song that will be played in future weddings but it's a small stepping stone to start now .
LOLLIPOP serves as the B-side for the single .