NEVER LAND - Demonstration Vol.4 -SUNSET-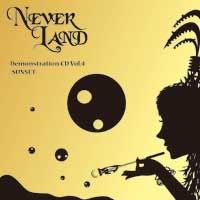 1) Yuuyake (Sunset) Melody
2) green story
3) nostalgia
Demonstration Vol.4 -SUNSET- is a single released by NEVER LAND . It was released on 23rd June 2006 & it contains 3 songs .
The 1st song is something called Yuuyake (Sunset) Melody . It's something that's a straightforward no nonsense angsty driven no. .
For me what I like about Yuuyake Melody is the somewhat unusual melody that has various guitar riffs being layered all over each other without coming across as if it sounds like a hot mess .
green story is the 2nd song found in Demonstration Vol.4 -SUNSET- & I think out of the 3 songs , this probably has to be my fave simply because on how captivating the song's on 1st listen .
The opening for green story is really enchanting & this's basically a really sincere heartfelt mid tempo ballad with unique touches thrown in to make the song stand out in its own respective right which's awesome .
nostalgia is the last song to wrap up the single & this's an interesting no. . You can hear AKIHIDE singing in an echo like tone in the beginning of nostalgia before the song breaks away & become this really feisty angsty track that I like .
I didn't know what to expect initally when comes to nostalgia but nonetheless , I was surprised in a good way when it turns out to be even better than what I expected .