NEVER LAND - Demonstration Vol.3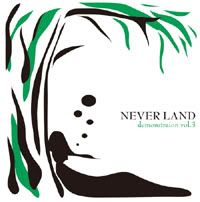 1) Nemureru Mori no Ouji (Sleeping Prince)
2) Amai Kaori (Sweet Perfume)

Demonstration Vol.3 is a demo single released by NEVER LAND . Its release date is unknown .
There're a total of 2 songs included in Demonstration Vol.3 & the 1st song is something called Nemureru Mori no Ouji (Sleeping Prince) .
Honestly when I saw the title Nemureru Mori no Ouji , I frankly thought it was going to be a ballad but I was surprised when it's actually a mean gritty aggressive rock track .
I haven't heard AKIHIDE sound this somewhat pissed when he belted out Nemureru Mori no Ouji with such gusto & I think it's nice to hear a different side of AKIHIDE that I usually don't get to hear at all .
The 2nd song Amai Kaori (Sweet Perfume) is unusual in that I think this's the only song that I'm able to hear AKIHIDE singing alongside with a female vocalist whose name I don't know of .
Song wise , Amai Kaori plays a really good contrast against Nemureru Mori no Ouji with Amai Kaori being a mid tempo song .
At 1st , I thought was there something wrong with the track as it has that whole sing & skip feeling but turns out that's not the case .
Amai Kaori is unique & it's 1 of those songs that makes you come back for more to listen to over & over again .