NEVER LAND - Akai Ito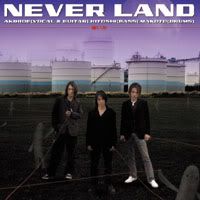 1) Akai Ito (Red Thread)
2) Komorebi Saka (Sunlight Slope)


Akai Ito is a single that was sold only during a NEVER LAND live performance , which took place on 5 years ago on 21st Feb .
I recongised the 1st song Akai Ito (Red Thread) on the tracklist because I have heard an album version found on NEVER LAND's mini album Beautiful Days .
There's not much significant difference between the version found in here & also Beautiful Days , just some minor twerks in the melody but still Akai Ito is a great track even up to now .
Komorebi Saka (Sunlight Slope) is 1 really long song , clocking in at close to 6:21 mins .
Still the duration length of Komorebi Saka didn't stopped me from enjoying the song from the beginning til the end . The no. originally started as a slow mid tempo track with beautiful acoustic guitar riffs & then slowly , it morphed into a track that has mean gritty rock sounds attached which's awesome .